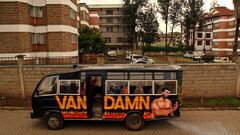 The Van Damn is a matatu (bus) conducted by Jela and driven by Capheus "Van Damme". It is their form of income, as they use it to transport the people of Kibera from the poor neighborhoods to the City of Nairobi. There is no explanation on its origins.
Its exterior design is decorated with paint of Jean-Claude's Van Damn because of Capheus' great love for the films and comics. Its interior are bright ornage, leather seats.
Ad blocker interference detected!
Wikia is a free-to-use site that makes money from advertising. We have a modified experience for viewers using ad blockers

Wikia is not accessible if you've made further modifications. Remove the custom ad blocker rule(s) and the page will load as expected.