Sharing is an ability allowing sensates from the same cluster to share knowledge, language, and skills. All sensates within a cluster have the ability to share from one another at will and sometimes share incidentally without the borrower nor sharer having knowledge of gaining or lending abilities.
In addition, all the sensates part of a cluster seems to have the ability to "fuse" together into one of them, as exemplified during the fight between Wolfgang Bogdanow and Lila Facchini. The two sensates had a simultaneous access to all the skills of their respective clusters while brawling against each others.
Mechanics
Edit
Sensates are constantly mentally sharing to others in their cluster. Due to the constant sharing of abilities and knowledge between sensates, the act of sharing could occur without the consent of the sensates.
Borrowers can perform sharing with and without the consent of the borrower sensate.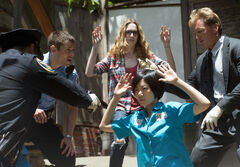 At will

Sensing another sensate's need or desire, borrowers can choose to be mentally be present at another sensate's location and either perform actions for the receiver or witness the receiver use the borrower's abilities.

Fortuitously

When receivers are in desperate need of aid from other sensates, borrowers' may unintentionally share their abilities without full contact with the receiver.
Borrowers, while sharing unintentionally, may mentally sense another sensate using borrowers' abilities but may choose not to interfere with the receivers' actions.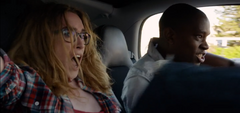 Receivers gain abilities from borrower sensates within their cluster. Similar to borrowers, receivers may achieve abilities from borrowers incidentally or at will. However, due to the sensates' link within the cluster, receivers are always receiving information and abilities from the other sensates sometimes without knowledge of neither the receiver nor borrower. Recievers developing thoughts of the other sensates within the cluster increases the amount of knowledge shared by the borrower.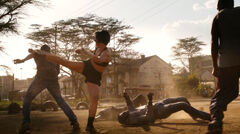 When sharing takes place, the receiver may see the borrower present and sometimes may not. If the borrower is not present during sharing, the receiver will use the abilities of the borrower while mentally appearing like the borrower sensate. Receivers may use the abilities of the sensates within their cluster, but sometimes may not realize that sharing took place.
Members of the August 8 Cluster have shown skills and knowledge that have been used by other members, while other skills have also been shown by individuals but have thus far been unused by other members of their cluster.
Ad blocker interference detected!
Wikia is a free-to-use site that makes money from advertising. We have a modified experience for viewers using ad blockers

Wikia is not accessible if you've made further modifications. Remove the custom ad blocker rule(s) and the page will load as expected.