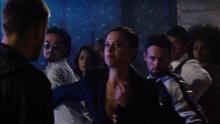 Lila Facchini's cluster
is a
cluster
of eight 
sensates
, all of which are believed to be alive. 
Background
Edit
Not much is known about this cluster; they seemingly have made a deal with BPO to remain free from experimentation.
Cluster Members:
Edit
Unnamed Man (fighter of the Cluster/Yellow Sneakers) - Joshua Grothe
Unnamed Man (Vietnamese in the suit) - Andreas Nguyen/Andy Long Nguyen
Unnamed Man (African decent with dreds)
Unnamed Woman (Woman in fur vest)
Unnamed Woman ( with Afro)
Unnamed Man (blonde bordering on albino, dressed in black goth style)
References
Edit
Ad blocker interference detected!
Wikia is a free-to-use site that makes money from advertising. We have a modified experience for viewers using ad blockers

Wikia is not accessible if you've made further modifications. Remove the custom ad blocker rule(s) and the page will load as expected.