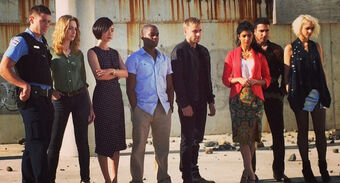 The "August 8 Cluster" (sometimes referred as the "8/8 cluster") is a cluster of eight sensates that were born on the same month and day. This cluster is also the team that comprise of the main characters of Sense8, containing all eight of the show's starring cast.
Background
Edit
The August 8 cluster was mothered by Angelica Turing, shortly before her suicide.[1] It consists of eight sensates.
Jonas seems to have vague knowledge of the identities of the cluster. Soon after they were reborn, he travels to San Francisco and successfully makes contact with Nomi, then travels to Chicago where he finds Will. It is implied that Angelica told Jonas about them off-screen, before her death, or their link as sensates allowed him to use her knowledge on them.[1]
Cluster Members
Edit
Skills and Knowledge
Edit
Members of the August 8 Cluster have shown skills and knowledge that have been used by other members, while other skills have also been shown by individuals but have thus far been unused by other members of their cluster.
References
Edit
Ad blocker interference detected!
Wikia is a free-to-use site that makes money from advertising. We have a modified experience for viewers using ad blockers

Wikia is not accessible if you've made further modifications. Remove the custom ad blocker rule(s) and the page will load as expected.